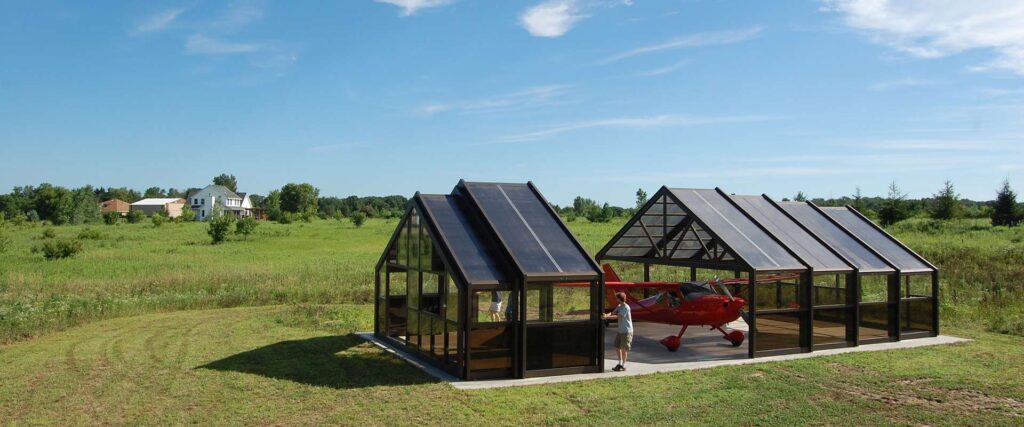 In 2011 Kent Forsland, owner of Cabrio Structures, lived on a private airpark. Most of the homes surrounding the landing strip had a metal pole building for a hangar, but his property didn't have a hangar. Kent's previous company, Designer Doors, designed doors and shutters to create Architectural Harmony™. The desire to create items that are visually appealing stuck with Kent, so when he decided to build a hangar, he wanted one that was architecturally appealing.
So he commissioned Cabrio Structures to create a retractable hangar.
In July 2011, Cabrio Structures installed:
A retractable hangar where the walls and roofs were connected. This means the walls and roof cannot open individually from each other, as is typical in most Cabrio Structures designs. Note: Cabrio Structures does not actively offer this option.
Result
Cabrio Structures created an architecturally appealing airplane hangar that, when operated by two people, can be entirely open – no frame! It is an interesting and eye-catching design for a weatherproof hangar and works well to showcase beautiful aircraft.
When Kent first started Cabrio Structures and began designing retractable patio structures, the only option on the market was this connected design: where the walls and roof move as one unit to open, and move as one unit to close. So when the roof is open, so are the walls. And when the roof is closed, so are the walls.
Part of why Kent created the Airplane Hangar as a connected wall-and-roof design was to become more familiar with the competition's design.
After Kent's experience with the airplane hangar, we recommend, for most applications, that the roof and walls operate independently from each other for the most flexibility. Cabrio Structures patented the concept of independently retractable roof and wall systems so that our customers get the most flexibility from their patio system.
Testimonial
"One of the best things about the Cabrio Hangar is that it is an architecturally appealing substitute for the traditional metal pole building." ~ Kent Forsland, owner.