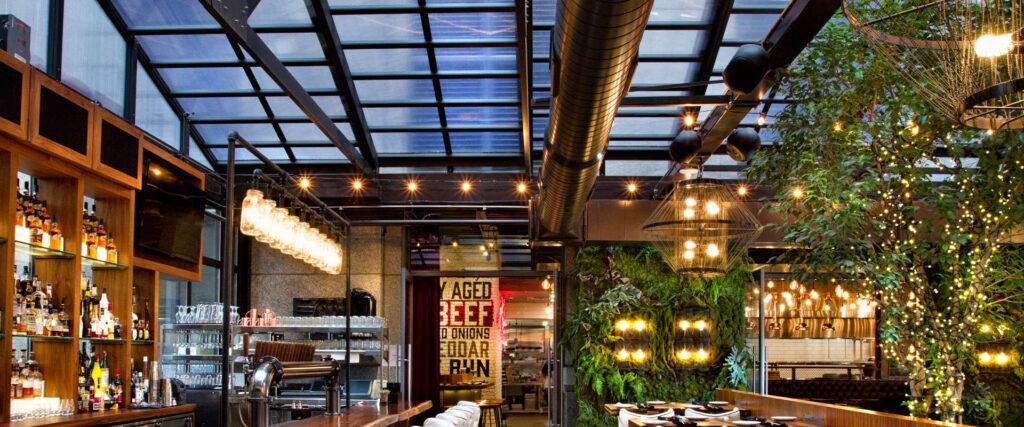 The perfect blend of functionality and beauty. Townhouse in downtown Detroit, MI wanted a large structure to create an elegant outdoor dining room with the comfort of the indoors. This Cabrio Structure was designed to be the focal point of the restaurant. Positioned on a busy street, against a skyscraper, on the front of the restaurant, this Structure was guaranteed to draw attention and it sure has! Townhouse successfully created a beautiful space that draws in customers and provides year-round comfort. Especially with their finishing details like a full bar, chandeliers, leather booths, and more, this structure is breathtaking and creates a unique dining experience like nothing else Detroit has to offer!
Townhouse Restaurant in Detroit, MI uses:
Result
A High-End, Outdoor Dining Experience with Indoor Comfort. An upscale dining experience complete with chandeliers and leather booths, but under an open sky? That's the unique dining experience Townhouse provides. Along with the ability to enjoy the space and the views from the comfort of the "indoors" when the weather doesn't cooperate.
Outdoor Environment with Indoor Finishes. Because the space is protected from the elements, it enabled Townhouse to finish their "outdoor" space with beautiful indoor finishes. Creating a stunning space with finishes that will last.